Authors4Oceans is a brilliant campaign started by Lauren St John with, at the time of writing, the support of 50 children's writers and illustrators including Jacqueline Wilson, Michael Morpurgo and Liz Kessler.
The Authors4Oceans campaign is raising awareness of the plight of our precious oceans and hopes to prevent the pollution of them with plastic. In the words of the award winning author Michael Murpurgo, "The greatest weakness we have, the greatest mistake we make is to take the world about us for granted. We use up the Earth we live in at our peril. It is a finite source and we have to remember that. Destroy it, and we destroy ourselves. It is that simple."
Learn more about the campaign and how you can support it here.
I'm in! I will support Authors4Oceans. For many years, I've been shocked by the state of our oceans and land. I regularly pick up litter from the beach and countryside. Not only is litter unsightly, it poses a real danger to wildlife. Put bluntly, litter kills.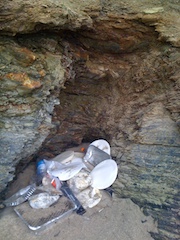 The amount of rubbish I've found on my favourite beaches in Cornwall was one of the inspirations behind my Silver Dolphins series.
Silver Dolphins are friends of the sea and work to protect the animals and wildlife that live there. You can find our more about the Silver Dolphin Series here.
It's everyone's responsibility to look after our oceans and land.
Here are some ways that you can help:
Always put your rubbish in a bin. If there's no bin then take it home. It could save a dolphin, or another animal's life.
Reduce waste by recycling.
Say NO to plastic. Avoid plastic cups, cutlery, straws, bags, packaging etc
Never release balloons in to the atmosphere. A burst or deflated balloon can be mistaken for food and result in a slow, painful death for marine life and other animals.
Only buy products that use ecofriendly glitter.
Avoid microbeads
Suppport Authors4Oceans Take their pledge TODAY to stop the plastic tide.
There is only one earth. If we don't look after it, who will?