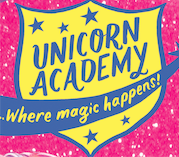 Imagine a school where you and your unicorn go on brilliant adventures together. 
Imagine Unicorn Academy.
Unicorn Academy, the best sort of boarding school, where pupils are paired with their own special unicorn.
The girls from Sapphire dorm are determined to bond with their unicorns and learn to become guardians of their wonderful island home. But someone wants to stop them. Who is the mysterious figure trying to ruin everything? The girls and their unicorns will stop at nothing to find out!
I'm writing Unicorn Academy with my good friend, Linda Chapman with illustrations by Lucy Truman. We're having lots of sparkly fun writing together and working with the brilliant team at Nosy Crow.
There are eleven books in the series, full of adventure, magic and unicorns. We hope you have as much fun reading as we have writing them. If you do, then maybe we will write some more! 
Click on the covers to see the books in Amazon or Hive.